Rhythm Bliss Mindful Hand Drumming & Movement (All-Access Pass to Academy and Live Stream Classes)
Learn Mindful Hand Drumming for Stress-Reduction, Cognitive Health & Joy! No drum or musical experience required. All you need is a heart beat!
Watch a short overview video
ENROLL NOW
By enrolling today, you will get access to our four Weekly Rhythm Bliss Live Stream hand drumming classes and replays, as well as Rhythm Bliss Academy - our growing collection of hundreds of videos and hours of online Mindful Hand Drumming rhythm meditations, instructional videos and movement practices. You will also receive our Getting Started with Rhythm Bliss course, Instruction in Hand Drumming Technique (contains instruction on lap drumming, djembe technique and frame drum in the free hand style), as well as Rhythm Meditations to cultivate Forgiveness, Loving Kindness, Resilience and a Balanced Mind.
The Current Live Stream Drum Class Schedule
We start the week off with our "mildest" beginner session
& proceed with increasingly "spicy" classes:


SUAVE Mondays 11am-12pm Pacific / 2pm-3pm Eastern / 7pm-8pm UK / 8-9pm Central Europe Intro 🍏 (Beginner - MILD SPICE)
SABROSO Wednesdays 11am-12pm(Pacific) / 2pm-3pm (Eastern) / 7-8pm UK / 8-9pm Central Europe 🌶️ (Beginner/Intermediate - MEDIUM SPICE)
CALIENTE Fridays 11am-12pm (Pacific) / 2pm-3pm (Eastern) / 7pm-8pm UK / 8pm-9pm Central Europe 🌶️🌶️ (Intermediate - HOT SPICE)

PICANTE Sundays 11am-12pm (Pacific) / 2pm-3pm (Eastern) / 7pm-8pm UK / 8pm-9pm Central Europe 🌶️🌶️🌶️ (Advanced - EXTRA HOT)
If you miss a live class, don't worry. We post replays of all weekly classes for two weeks so you can do them on your time or for repeated practice.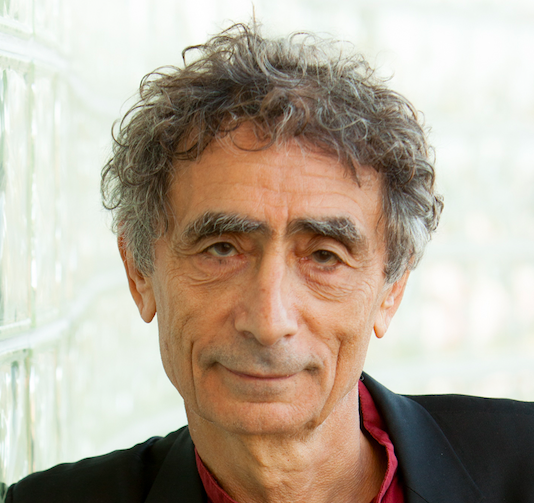 According to both worldwide, tradition-hallowed human experience and modern research, drumming can be powerfully helpful and healing in times of stress, anxiety and trauma. I have experienced Alexandra's teachings first hand. She is a wonderful embodiment and translator of the healing power of the drum. I highly recommend Alexandra's work to anyone looking to use the enchantment of rhythm for wellness, stress release and healing.
- Dr. Gabor Mate (Order of Canada Recipient, World Renowned Speaker, Bestselling Author and Expert on Addiction, Trauma, Stress and Childhood Development)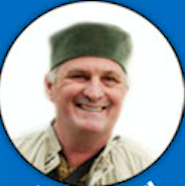 I highly recommend Alexandra and her Rhythm Bliss program for anyone wanting to learn to drum. In fact, I can't recommend Alexandra highly enough. As well as being a very skilled drummer and rhythm teacher, Alexandra goes well beyond the technical aspects of rhythm and drumming and integrates yoga philosophy, meditation and movement practices. She is the real deal and is completely committed to this work. I remember when Alexandra attended my 3-day Village Music Playshop in Vancouver many years ago. She was VERY pregnant and her due date fell on the date of the training. She was so determined not to miss the program that she did the Playshop in a wheelchair and delivered her son two days after the workshop. If you want to learn how to play hand drums well, in a way that maximizes the health benefits, Alexandra is your gal.
- Arthur Hull (Internationally Renowned Percussionist, Global Rhythm Ambassador, and "Grandfather"of the Modern Facilitated Drum Circle)
Alexandra has a unique gift for using hand drumming, rhythm and movement for healing and wellness. I have studied drumming with Alexandra and her classes release stress, calm the mind and are a joy to participate in. I highly recommend her teaching and the Rhythm Bliss program, and do so whole-heartedly.
- Dr. Brenda Lau MD, FRCPC, FFPMANZCA, MM, CGIMS, CIPS (Founder & Medical Director, ChangePain; Pain Specialist and Anesthesiologist, FRCPC Founder Pain Medicine; Clinical Associate Professor, UBC Dept. of Anesthesiology, Pharmacology & Therapeutics )
JOIN OUR GLOBAL HEART-CENTRED
RHYTHM COMMUNITY!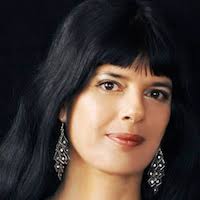 Alexanda's love of rhythm and movement is infectious and she is a highly skilled and inspired drum and yoga teacher with a huge wealth of experience and insight to share. She is open, non-judgmental, passionate and caring. I have hired Alexandra many times to facilitate our yoga teachers' graduation ceremoney, and highly recommend her to anyone looking to begin or deepen their rhythm meditation and movement practice.
- Shakti Mhi (Founder, Prana Yoga College, Shakti Yoga Centre)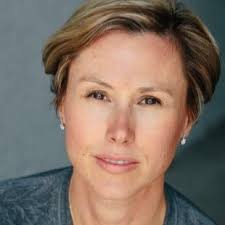 I love Alexandra's simple clean honest approach to the essence of yoga and drumming. Her attention to detail in her cueing guides you safely and keeps you focused throughout the practice. Her movement classes are both challenging and relaxing, allowing you to work from where you are at that moment in time. It has made a huge difference in my body. Even practicing with her once a week is addictive. The drumming is pure bliss and reminds me of South Africa where I was born.
- Janet Kimmel (Founder, The Align Method, Fitness Instructor and Pelvic Floor Rehabilitation Specialist)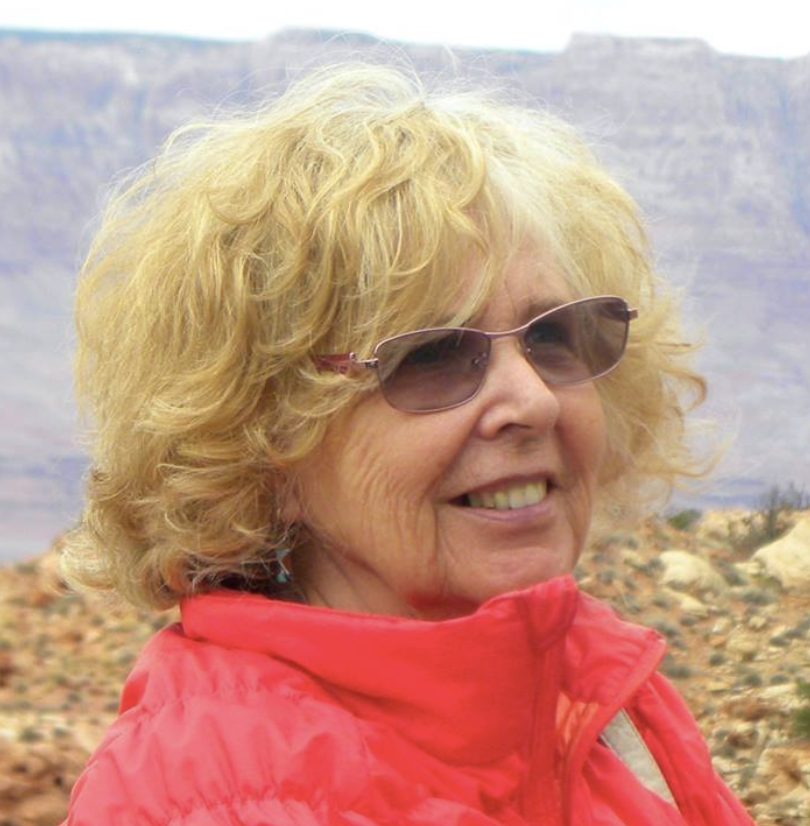 Just want to let you know how helpful the drum meditation has been to me. My daughter has been extremely ill from complications from cancer. We have been completely taken up with her care. I have been far too anxious (and tired) to drive to live yoga or drum classes. The online rhythm meditations have been a life-saver for me. I am transported to a blissful place which allows me to let my anxiety go, for a while at least.….Thank YOU and please convey my thanks to the rest of the Rhythm Bliss team.
- Zandrika James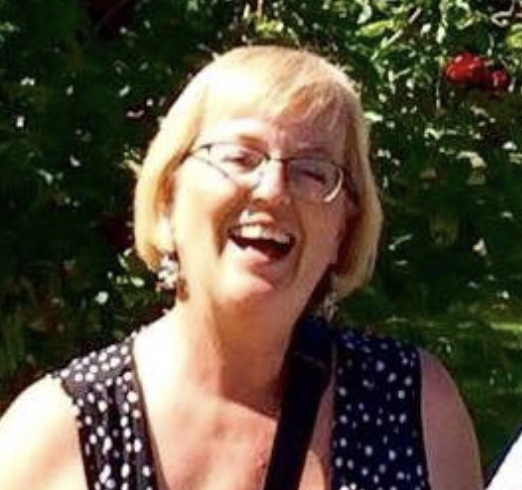 Alexandra manages to accommodate such a wide range of rhythm levels in her program. She creates a very safe environment to have fun with no fear of messing up. She is an excellent instructor.
- Anne Carten (Teacher)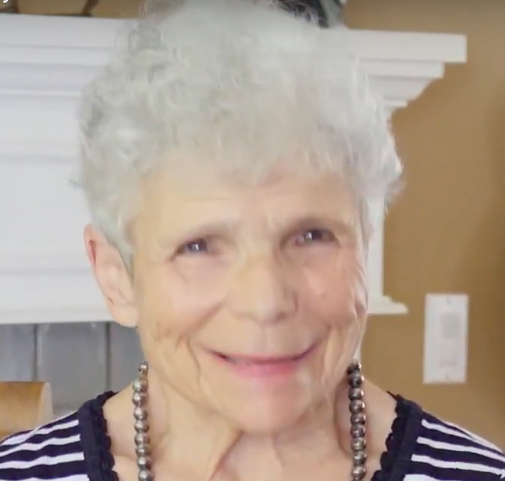 She has a talent for combining yoga and drumming and encourages you to just be yourself and move. I suffer from anxiety and my psychiatrist actually prescribed drumming with Alexandra to me. Alexandra makes it so joyful and engaging, you feel like you can't make any mistakes. I am almost 80 and I LOVE it!
-Sheila Herman (Retired Teacher)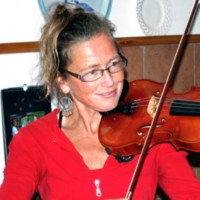 Alexandra is truly a bright light and when she teaches, one can not help catch the flame of inspirational fire which runs through her beat, singing voice and instruction, which is comprehensive and beautifully packaged.
- Ingrid Hauss (Yoga Instructor)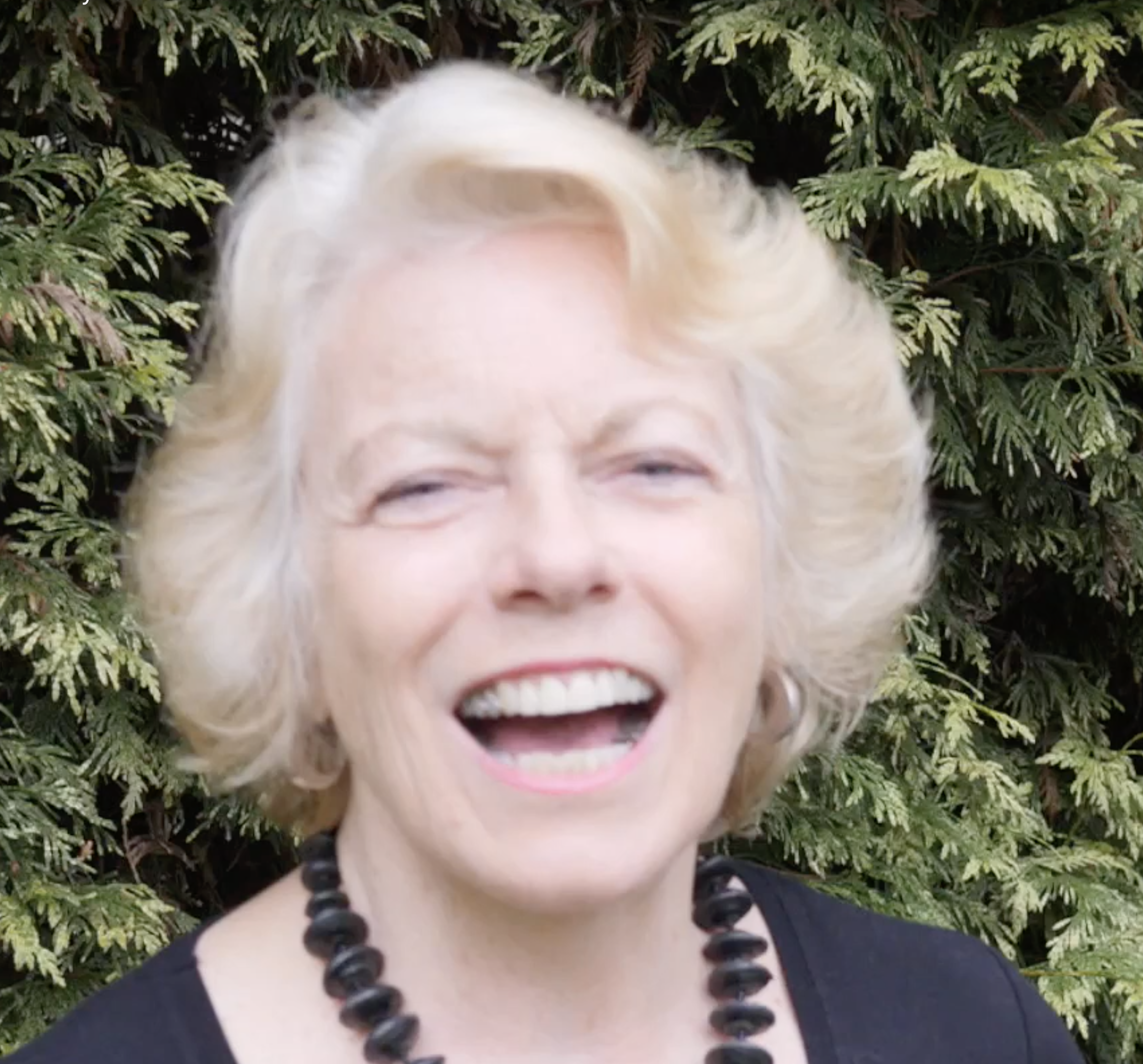 I had hesitated drumming this morning as I had a terrible back problem after ziplining yesterday. Today after drumming, I felt so much better. I don't know if it was a combination of the drumming with the yoga, just the stretching or whether it was just chilling during drumming…………..whatever it was I have to say "thank you so much". I cannot believe how much better I feel! Once again, thank you for everything, your time, your patience and your amazing abilities with both drumming and yoga.
- Lynn Smith (Retired Flight Attendant)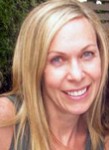 The benefits for me are pure delight and pleasure...and it's embodied. I just feel the smile from the inside. Alexandra is so passionate about drumming and yoga and it's infectious. When I'm drumming with Alexandra I feel "this is it", it doesn't get any better than this.
-Fran Alexander (Registered Clinical Counsellor)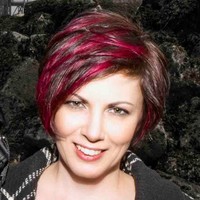 I had a stroke that paralyzed my left side and left me with the remnants of shakiness and tremors, and I never thought that I'd be able to play any instruments. Alexandra's drum songs have spoken to my heart and apparently my frontal lobe, as well. I can now hold my fingers together and allow my joyful left hand to surprise me with its beautiful dance.
-Marianna Nemeth (Property Manager)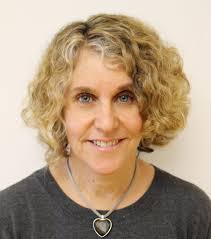 As a former dancer, professional hand drummer, and certified yoga instructor, Alexandra embodies kinaesthetic energy! Every time I do a movement practice with her, I feel as though I am not only benefitting from a beautiful yoga practice, but am also receiving important lessons in anatomy and physiology. Thanks to her brilliant instruction, I have embarked on a path of mindful movement that I hope will sustain me as my body copes with the effects of aging, stress and a 21st century sedentary lifestyle. I have never felt so motivated to move and stretch my body.
-Jenn Schecter (Communications Director, Teacher)
Hundreds of Rhythm Exercises to Suit All Skill Levels from Beginner to Advanced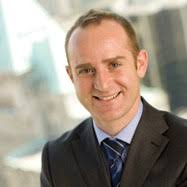 Alexandra instills a genuine calmness enabling greater self awareness. She has a very special "magnetism" to her that draws people to her and makes you want to join her in doing what she is so passionate about.
-Max Collett (Environmental and Real Estate Lawyer)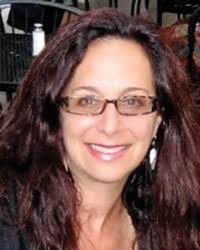 Alexandra provides a compassionate and safe environment with creative and masterful instruction where students feel comfortable to explore and receive the benefits of mindful drumming and yoga. Alexandra is a natural-born educator and a teacher with a high level of integrity and professionalism.
- Janice Clarfield (Yoga Teacher Trainer)
100% SATISFACTION GUARANTEE
Let us know within first 30 days if Rhythm Bliss is not your jam and we'll give you a complete refund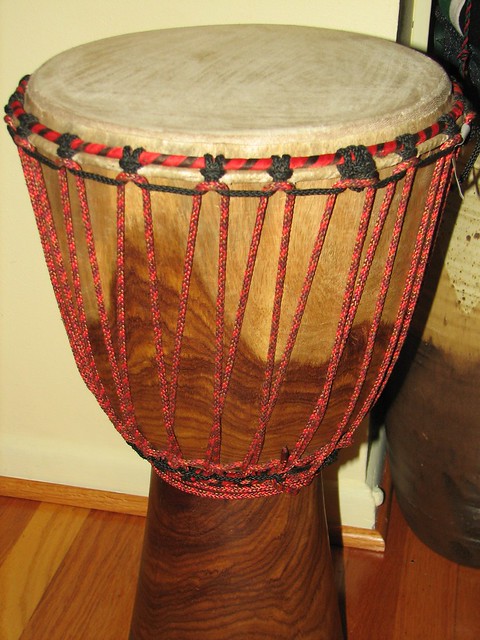 The Rhythm Bliss online program has helped me with balance and focus after experiencing vertigo. I so appreciate the effort and hard work they've put into making it such a great program. I love the brain gym exercises and the Rhythm Jams with the Rhythm Bliss band, as well as the grounding meditation with the didjeridoo.
- Judy H. (Horticulturist)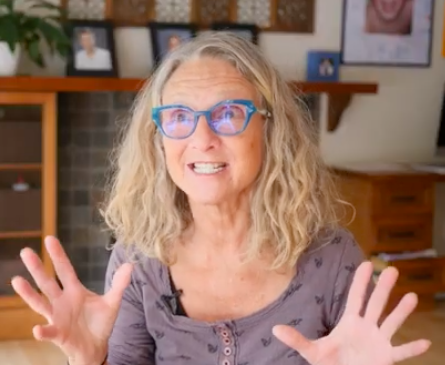 Thank you Alexandra, Michael and the Rhythm Bliss Team!!! This has become my new addiction – this practice is my favourite meditation now. Mindful Hand Drumming is where it's at!🙏🏼👌🏼…xo
-Micheline Gauthier (Yoga Instructor, Dancer, Care Worker)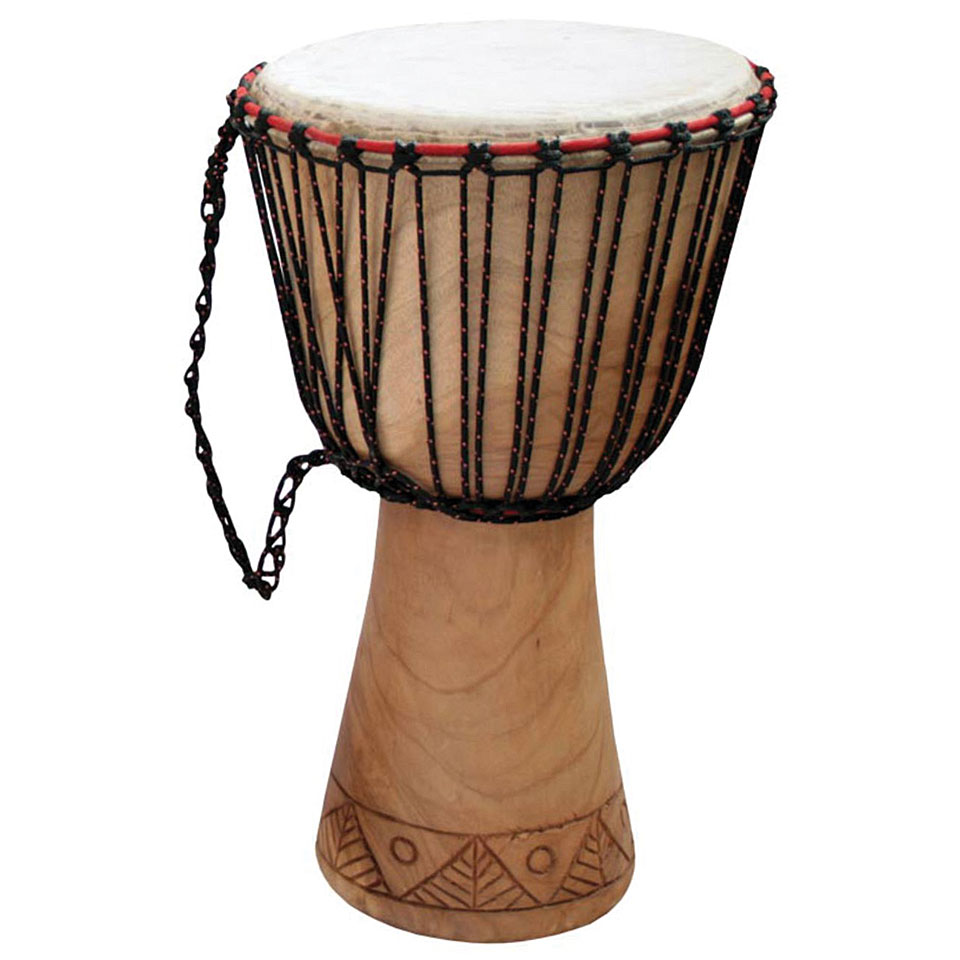 When it comes to rhythm facilitation, Alexandra, is the best in the business. She is extraordinary in her ability to facilitate the most engaging drumming and movement sessions.
- Leah R. (Music Therapist)
Courses Included with Purchase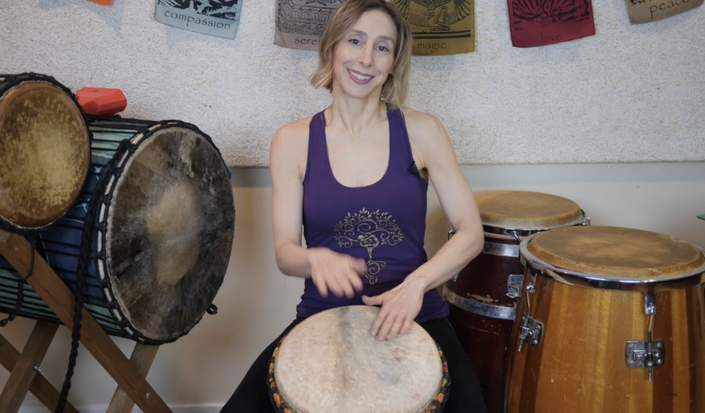 Getting Started with Rhythm Bliss
Your Rhythm Adventure Begins Here!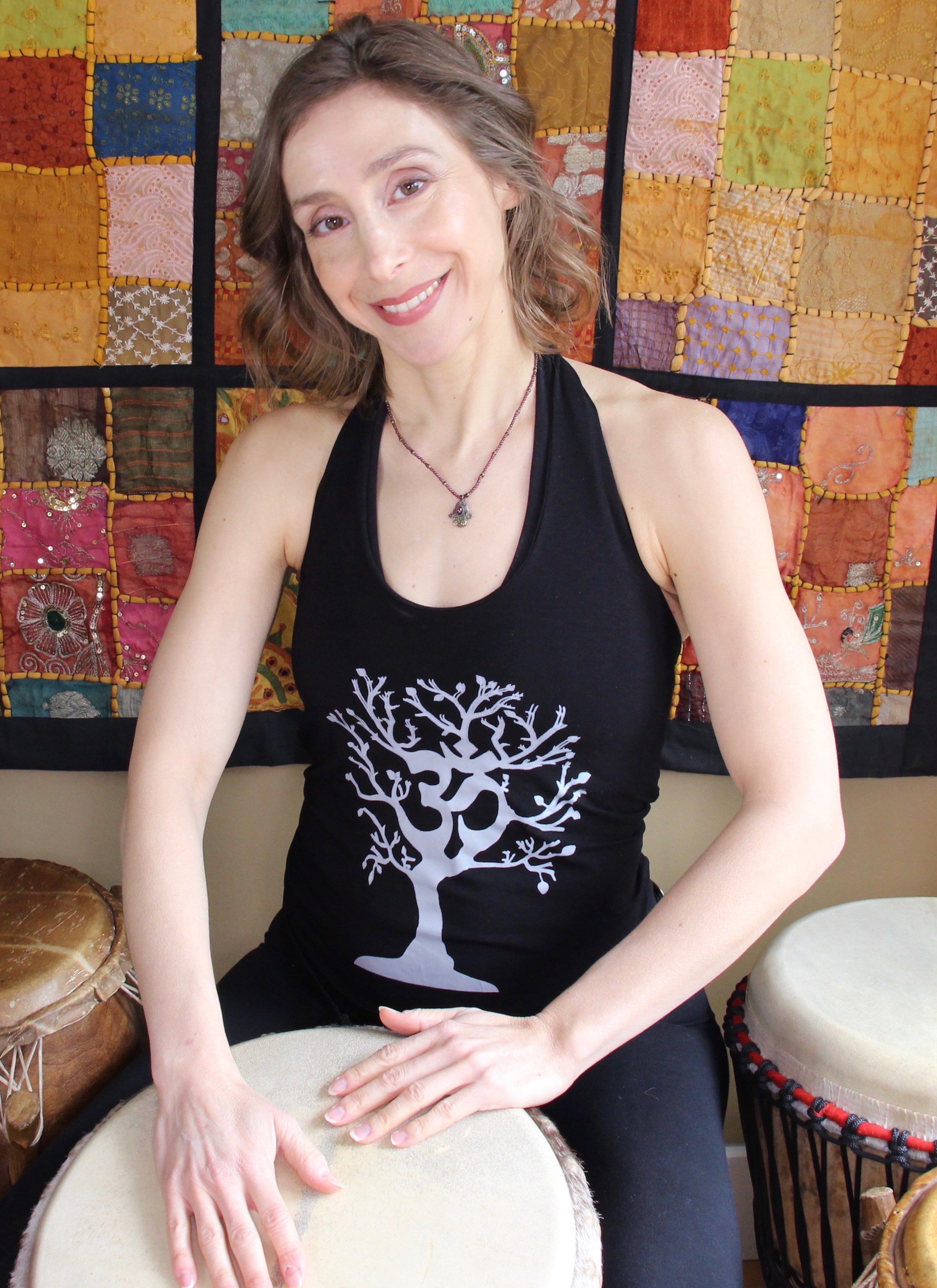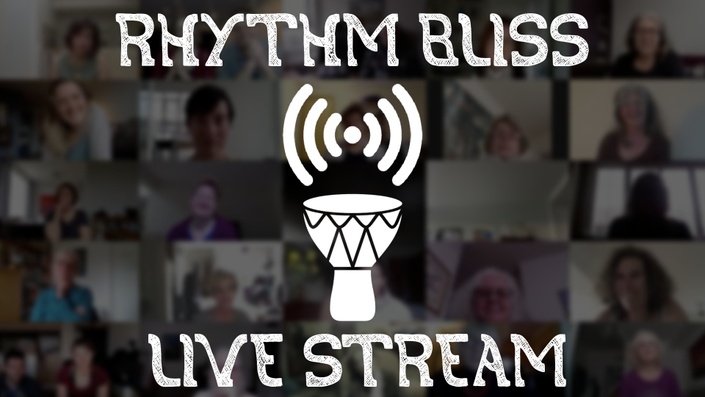 ACCESS LIVE STREAM CLASSES & REPLAYS HERE!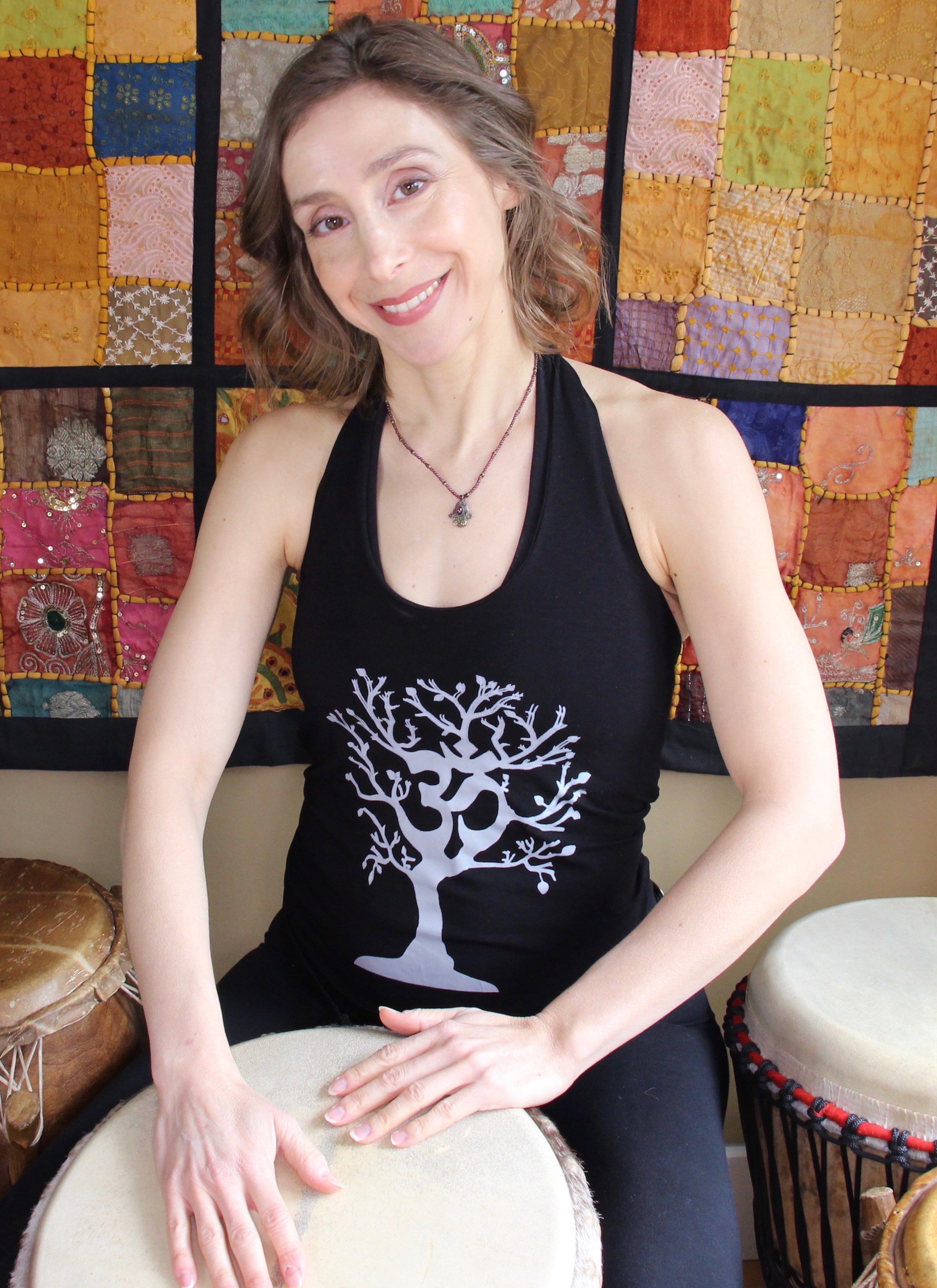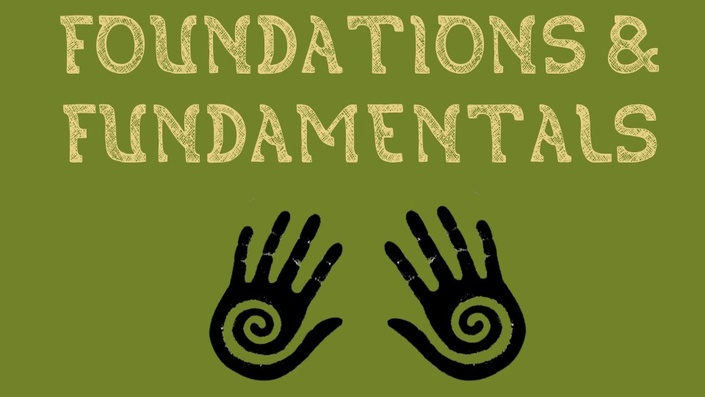 Foundations and FUNdamentals - 🍏🌶️
Learning Basic Tones and Positioning for Rhythm Bliss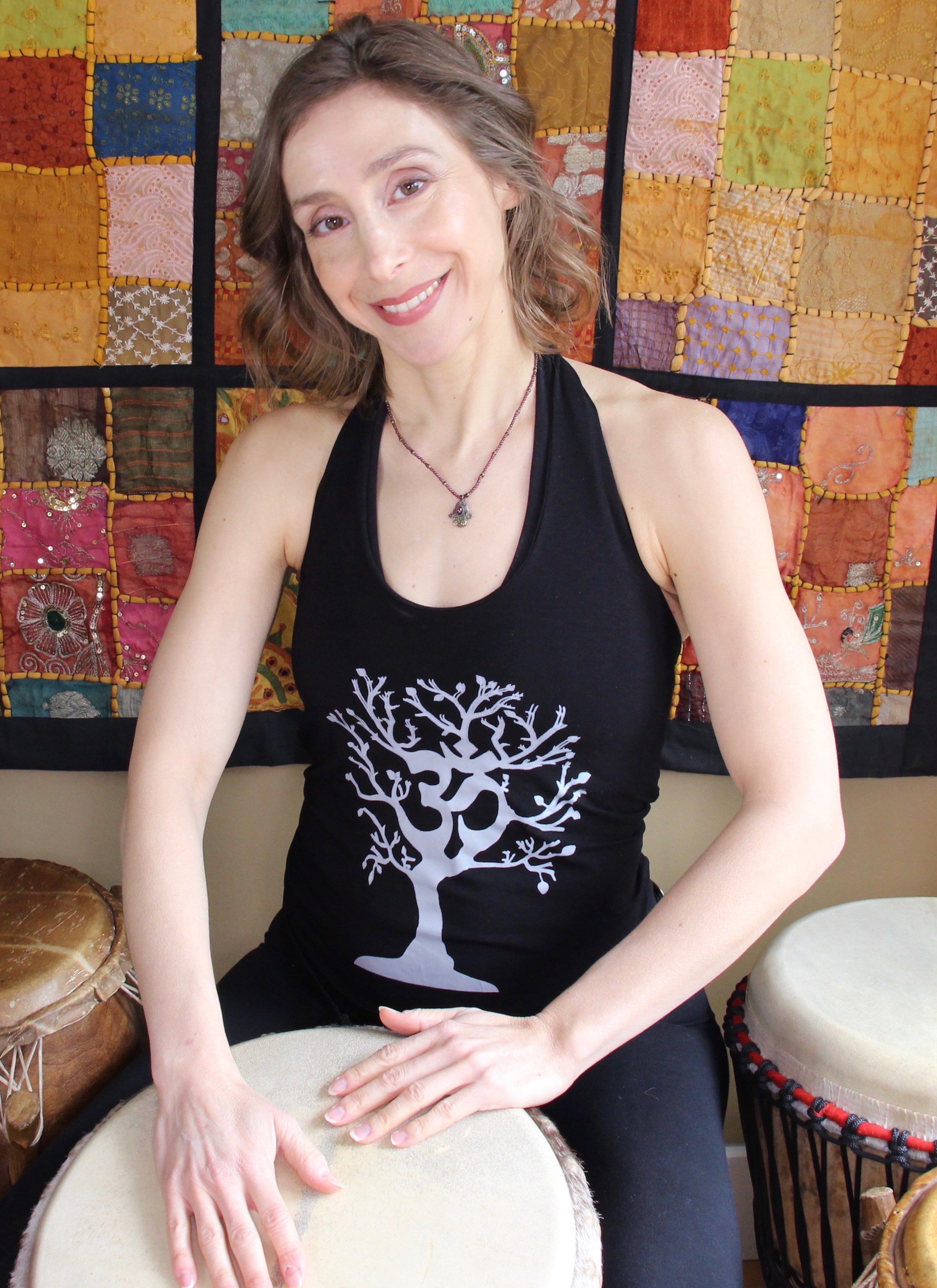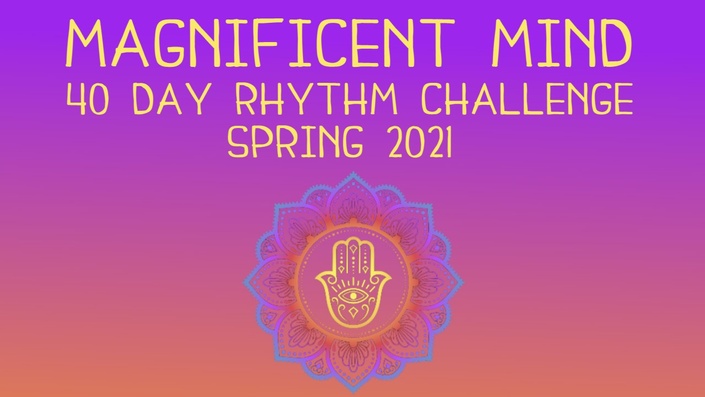 START CHALLENGE HERE - Spring 2021 Magnificent Mind 40 Day Rhythm Challenge - Main Page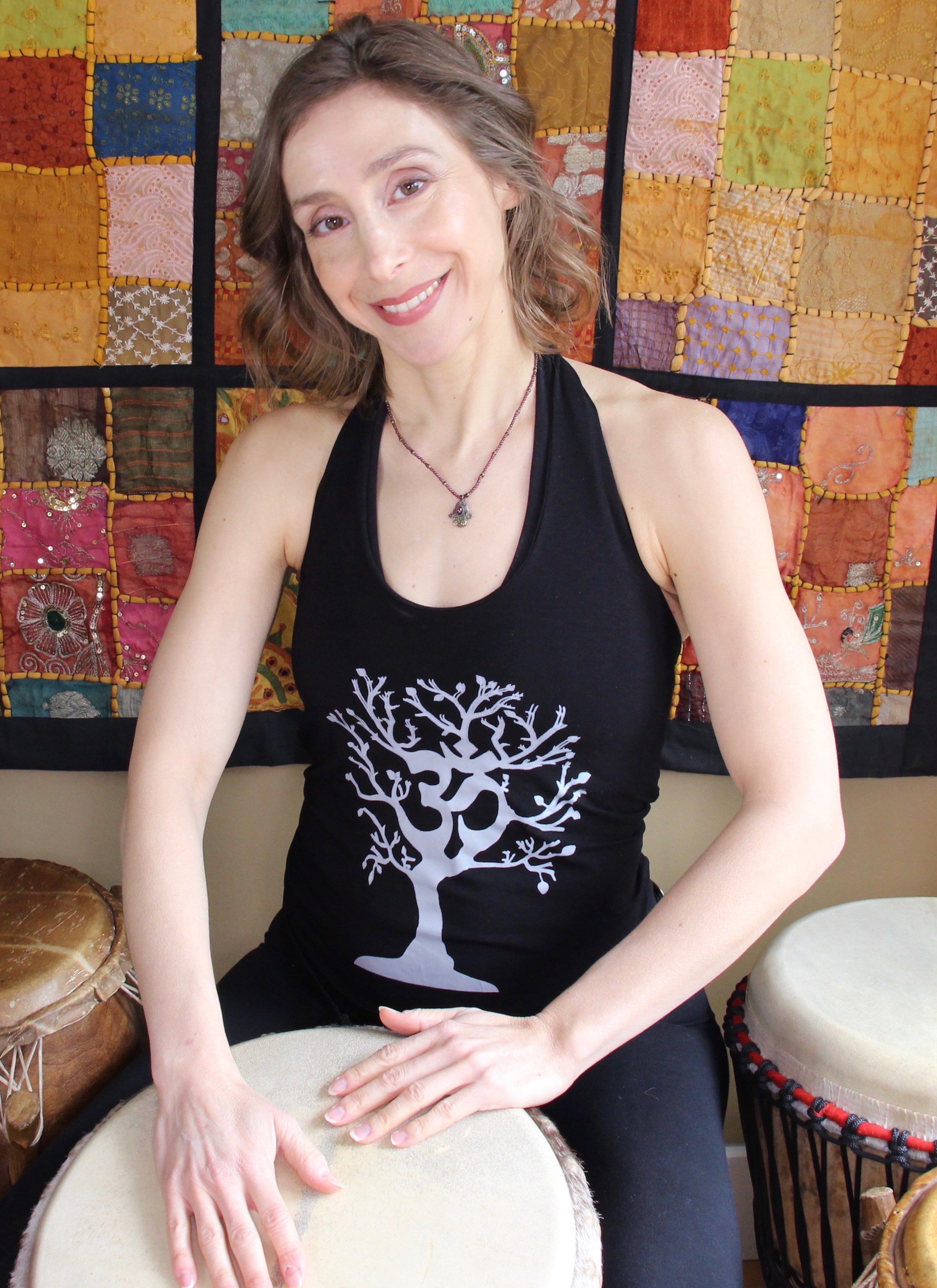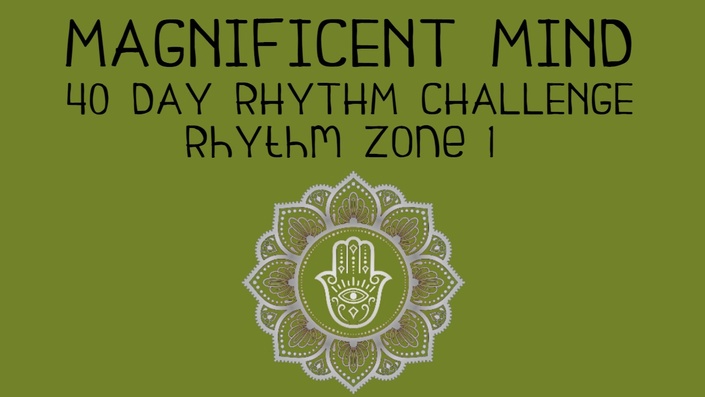 Magnificent Mind 40 Day Challenge Spring 2021 - RHYTHM ZONE 1 - 🍏🌶️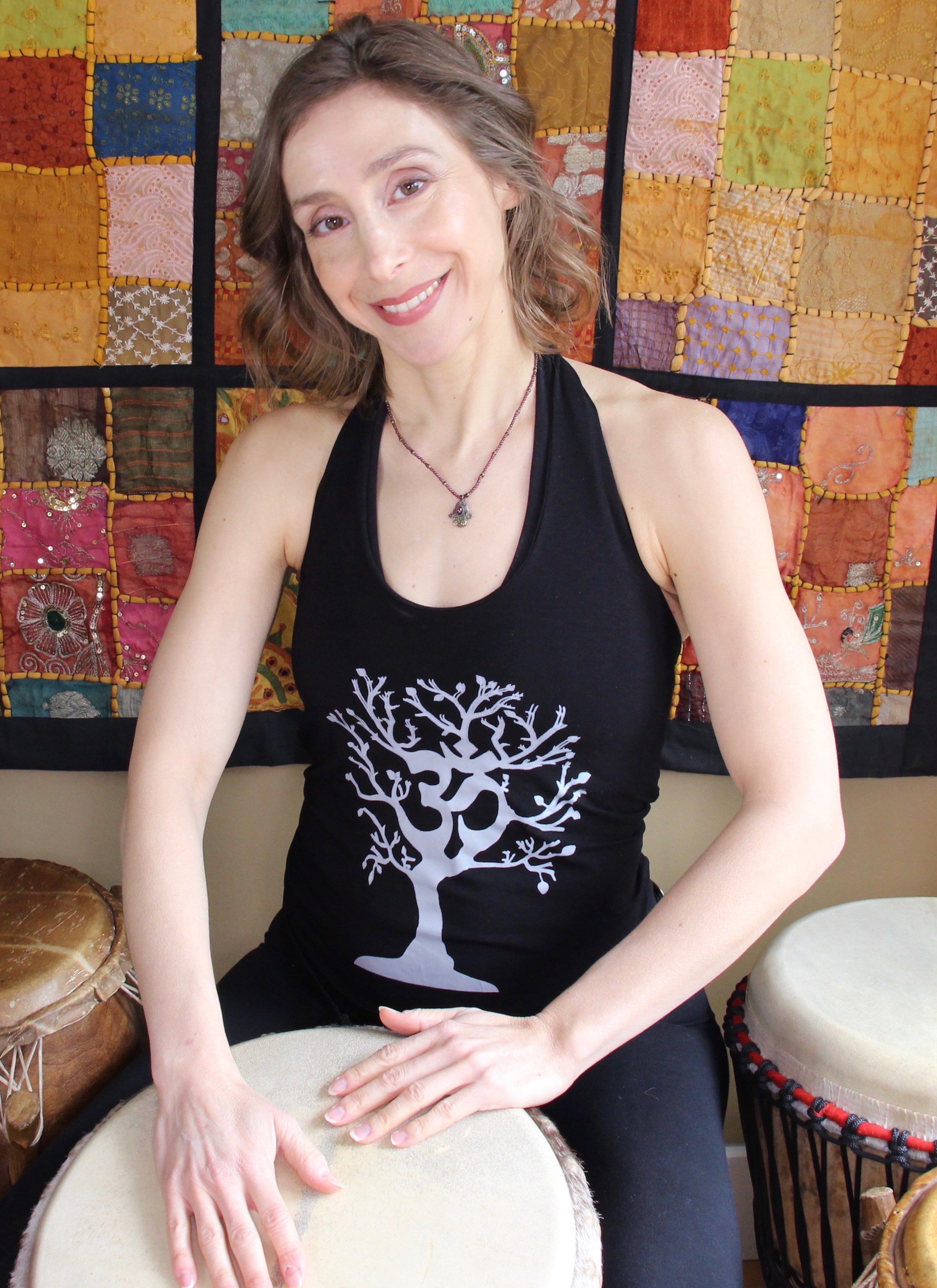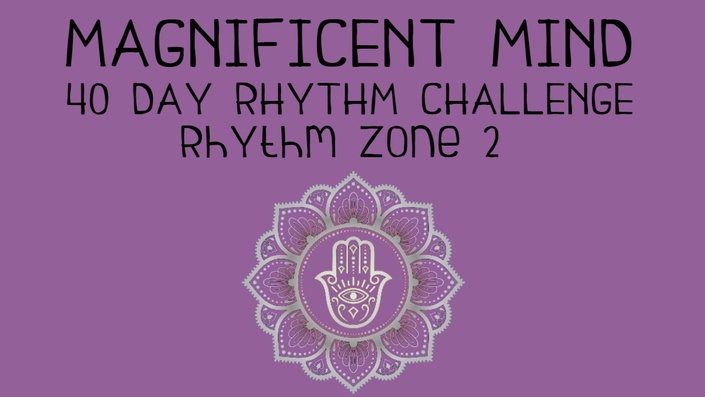 Magnificent Mind 40 Day Challenge Spring 2021 - RHYTHM ZONE 2 - 🌶️🌶️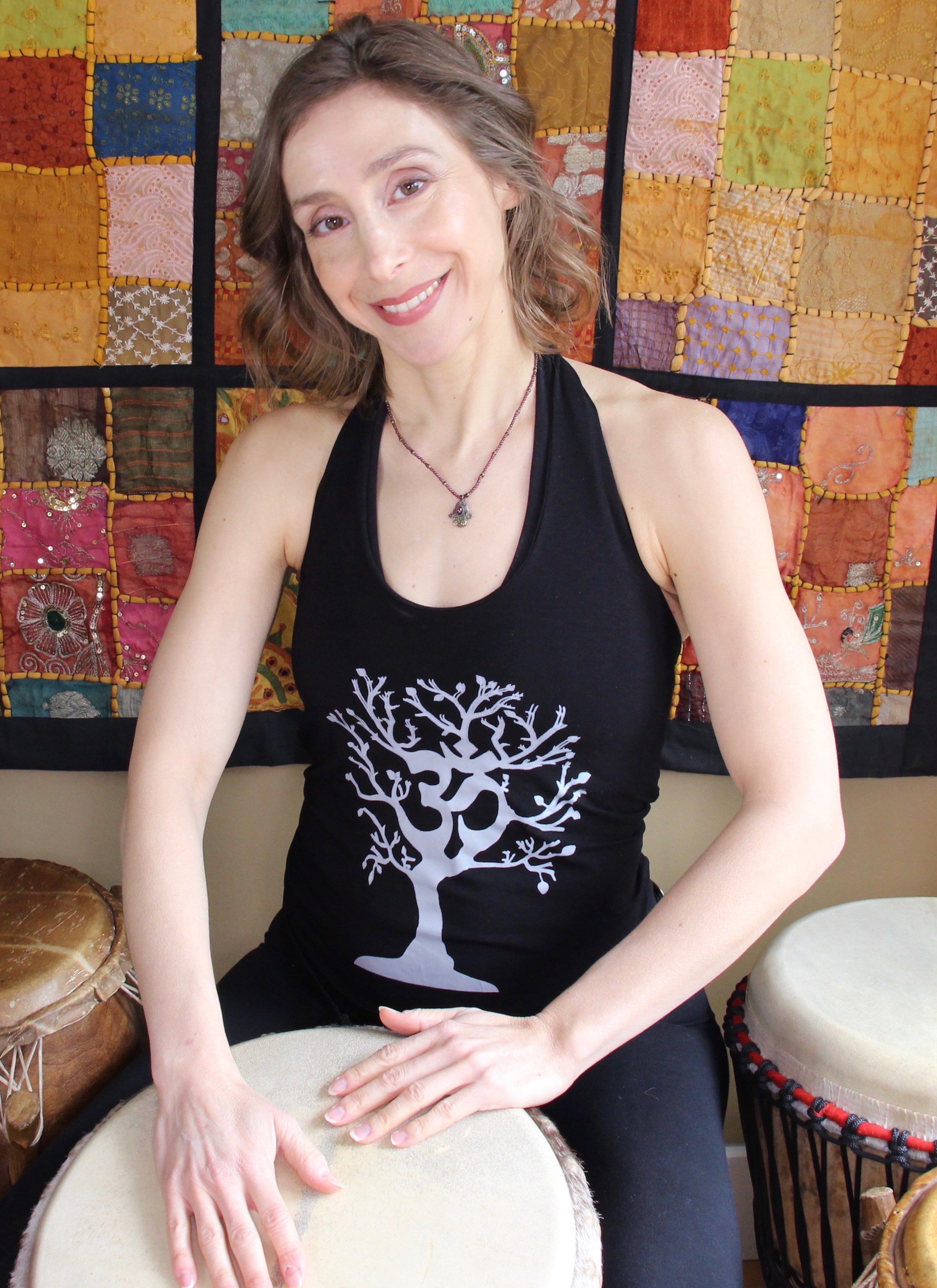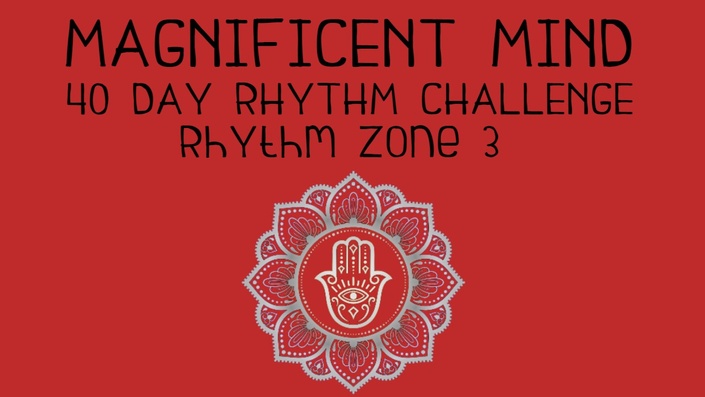 Magnificent Mind 40 Day Challenge Spring 2021 - RHYTHM ZONE 3 - 🌶️🌶️ 🌶️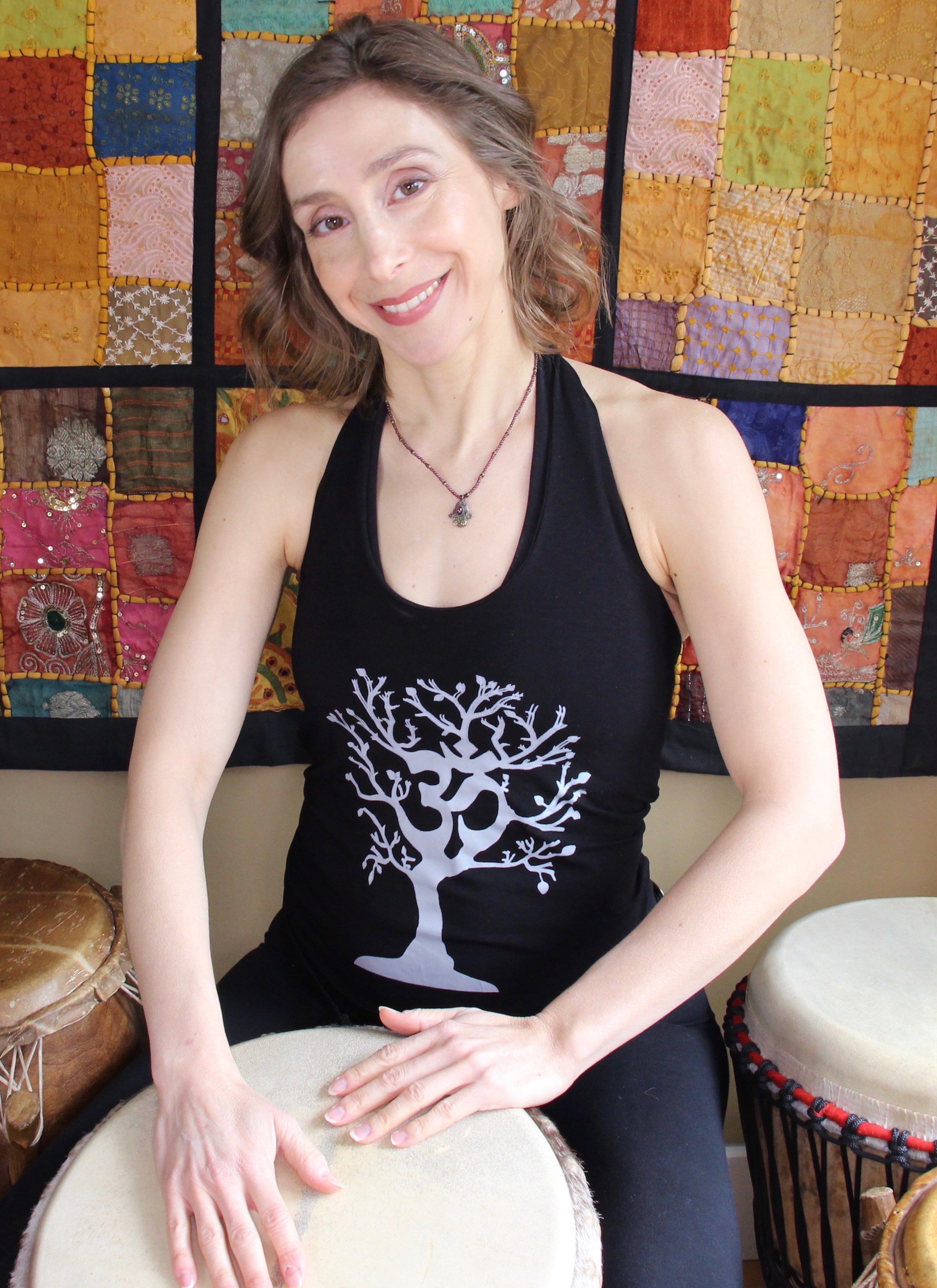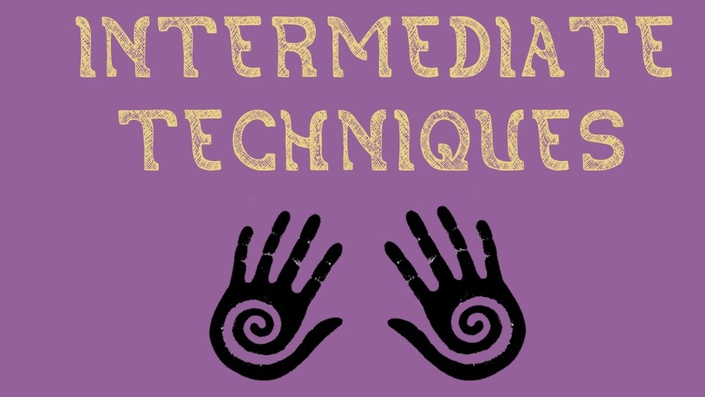 Intermediate Techniques - 🌶️🌶️
Instruction on Intermediate Mindful Hand Drumming Techniques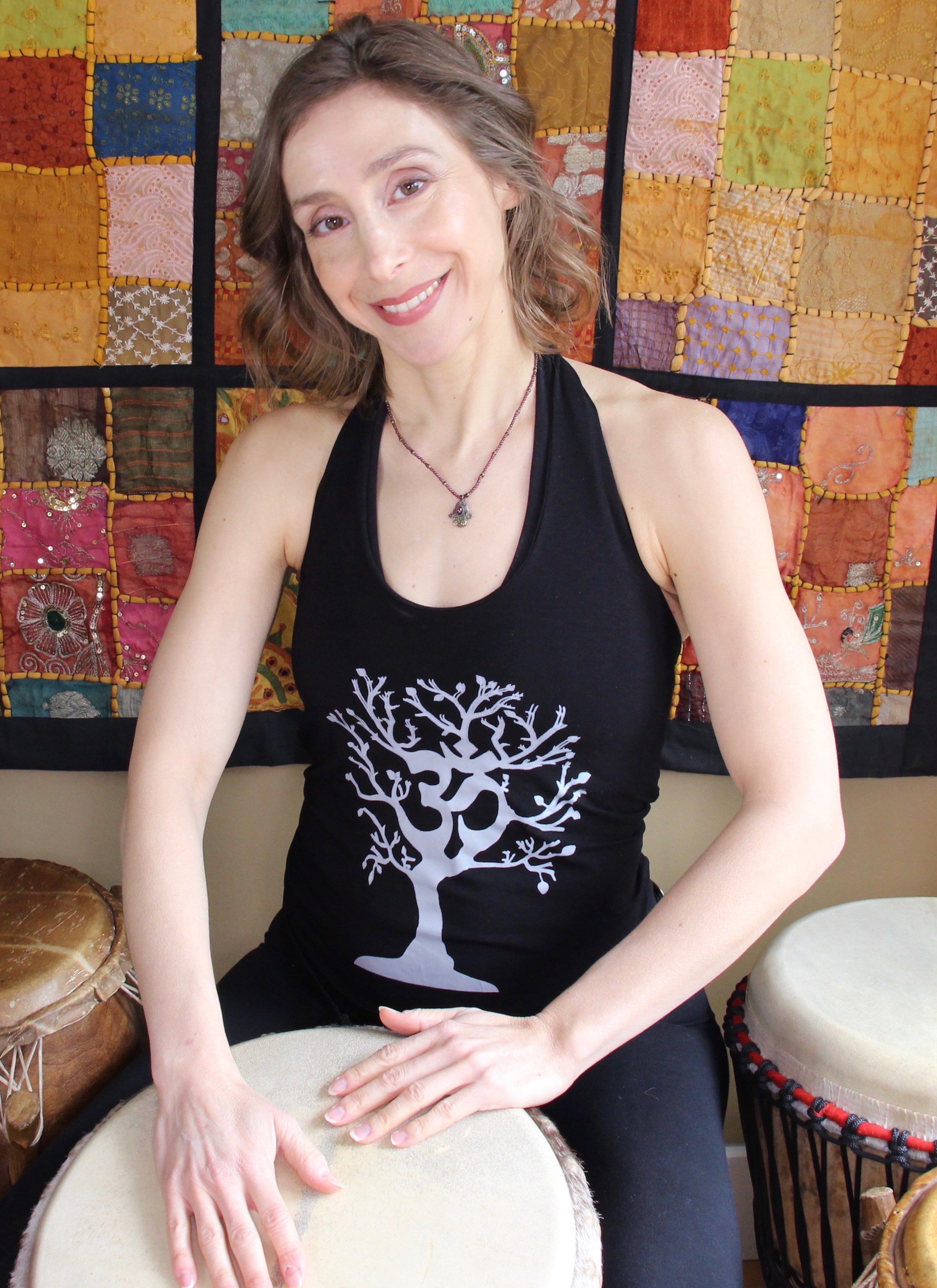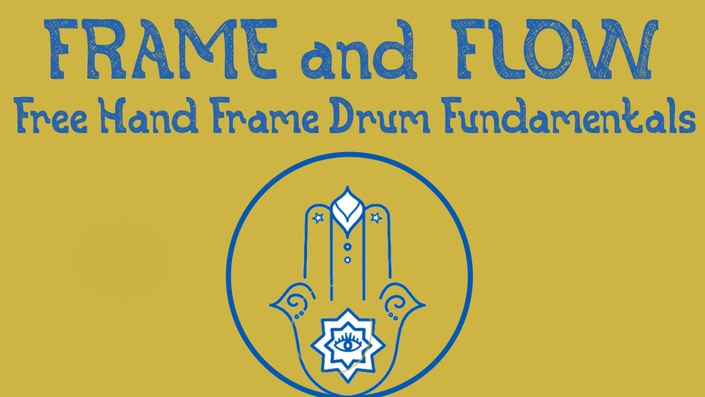 Frame & Flow (Using a Frame Drum for Rhythm Bliss - All Levels)
Frame Drumming Essentials in the Free Hand Style and Short Movement Practices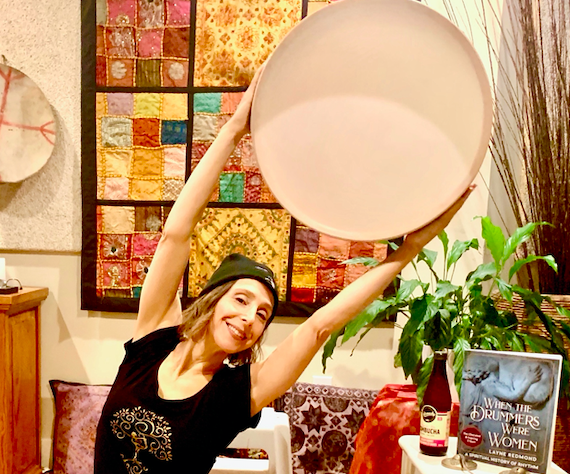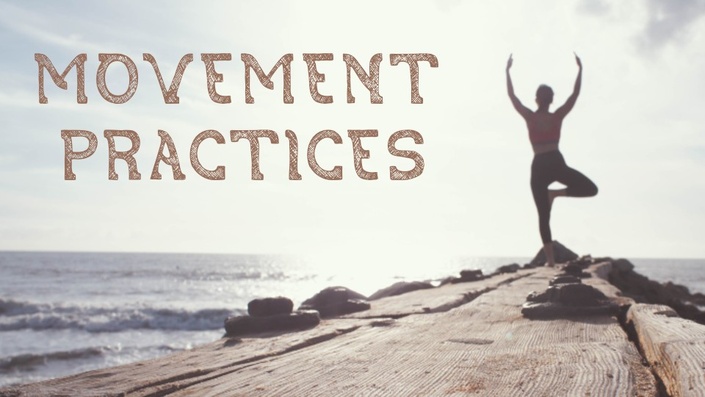 Rhythm Bliss Movement Practices
Easily Accessible Daily Movement Practices for Health & Vitality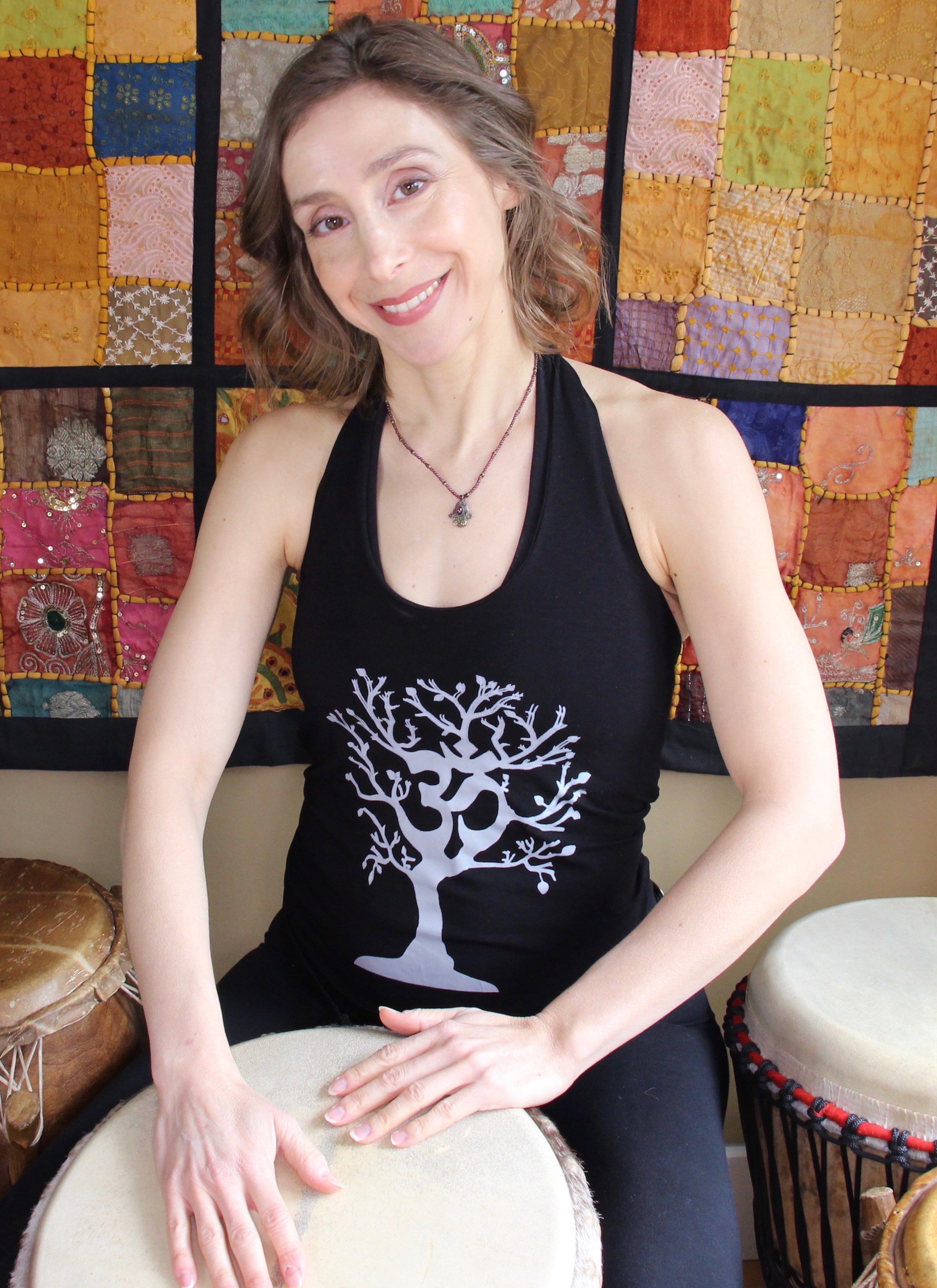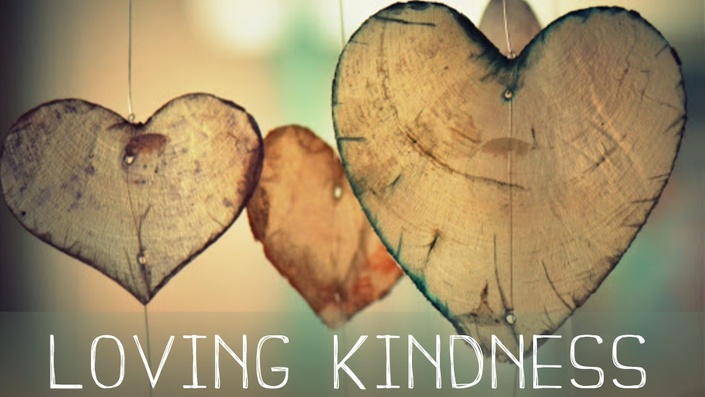 Rhythm Meditations to Cultivate Compassion and Loving Kindness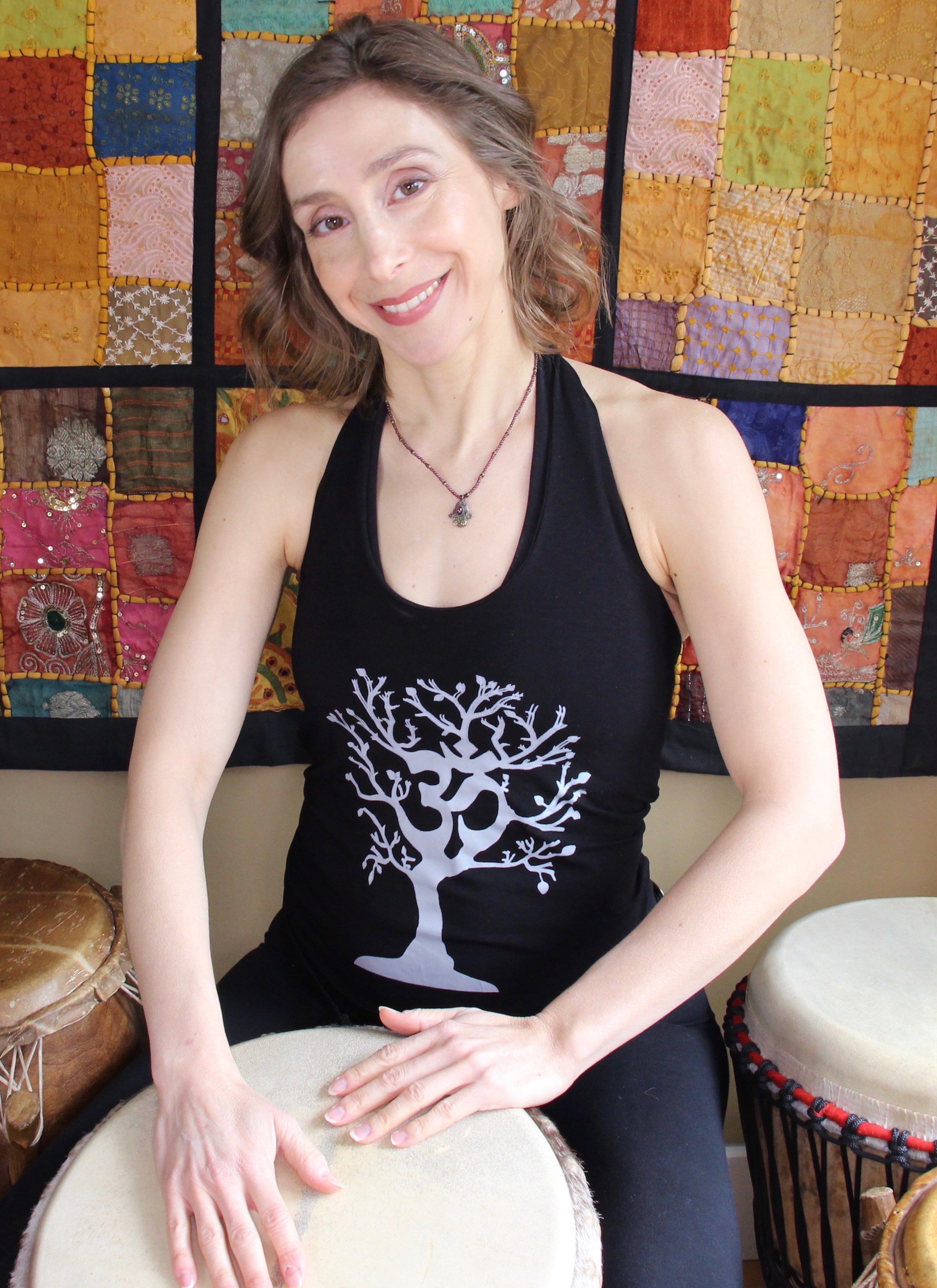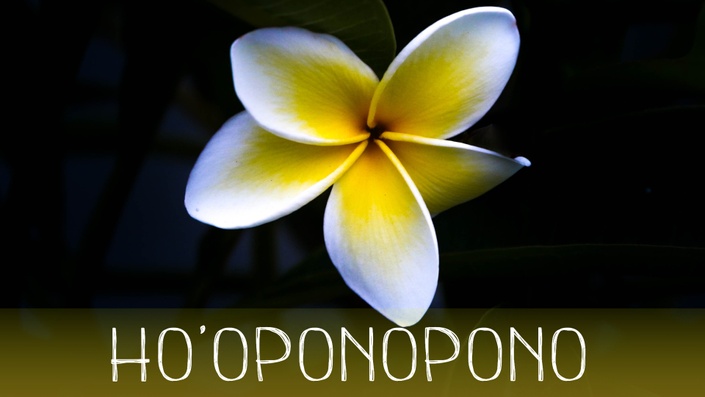 Rhythm Meditations for Forgiveness - Ho'oponopono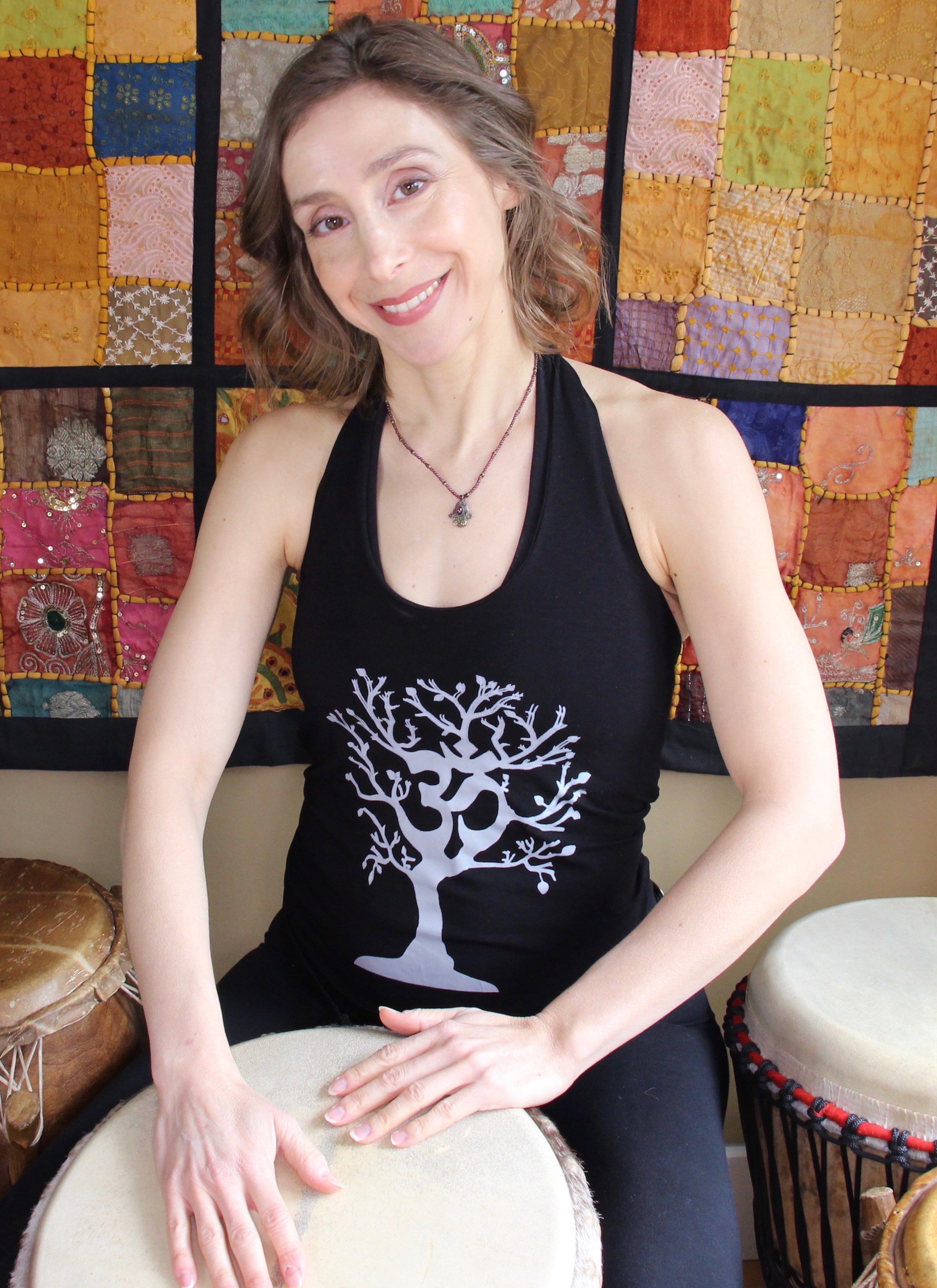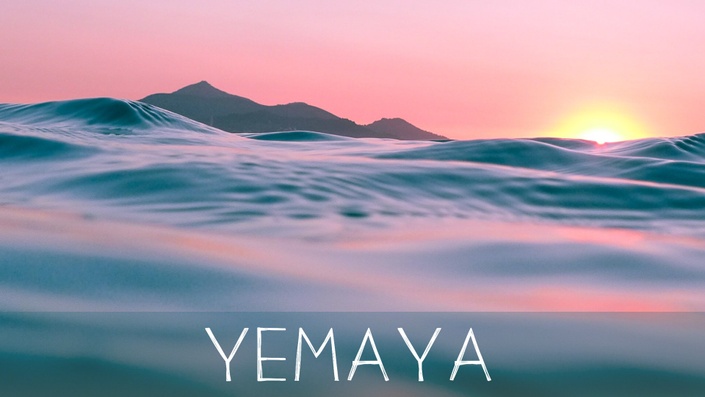 Rhythm Meditations for Enhancing Fluidity & Flow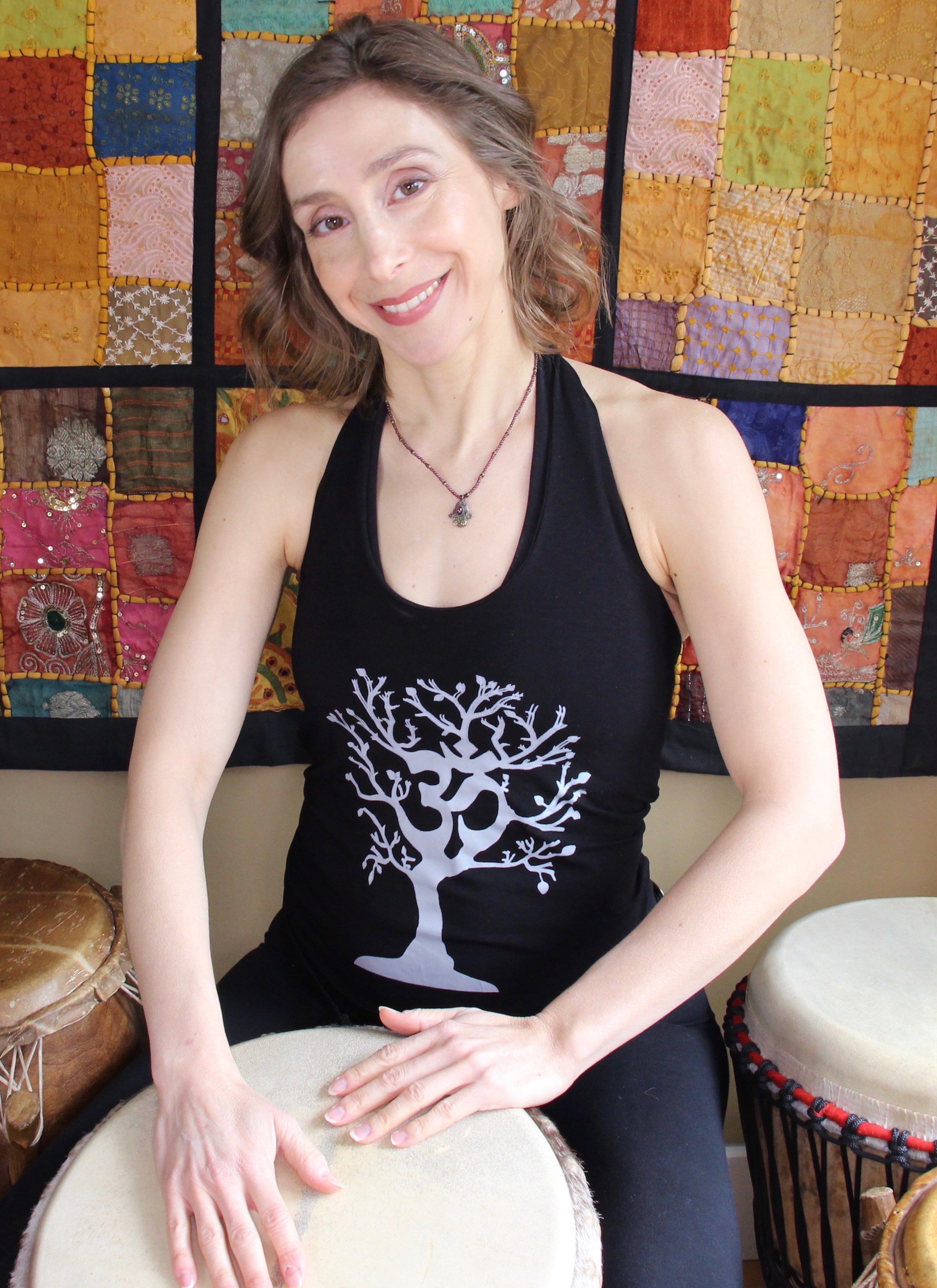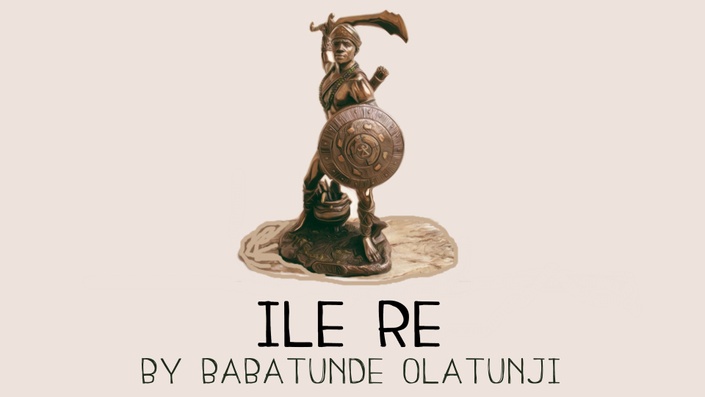 Rhythm Meditations for Building Strength, Courage and Resolve
ILE RE by Babatunde Olatunji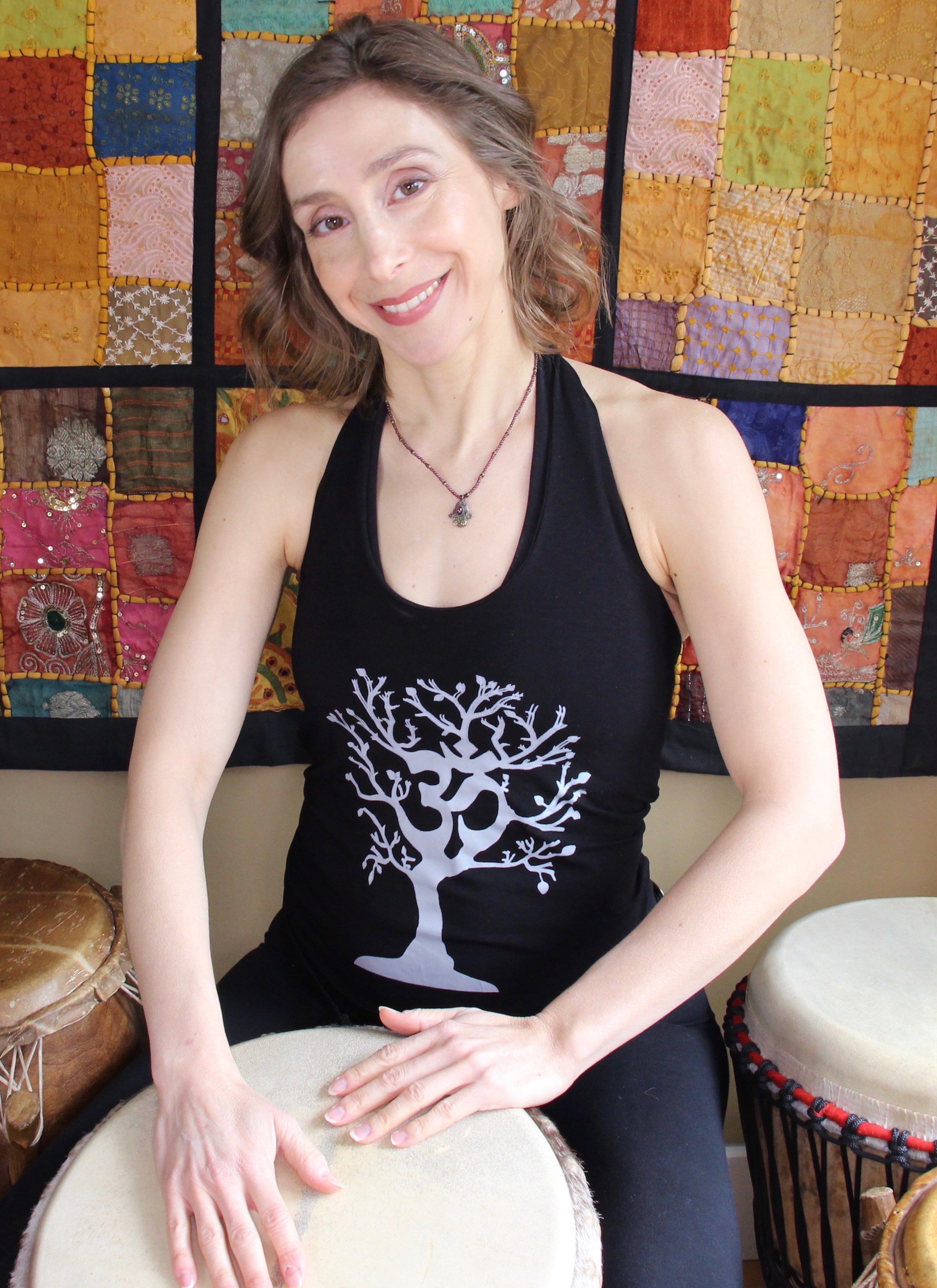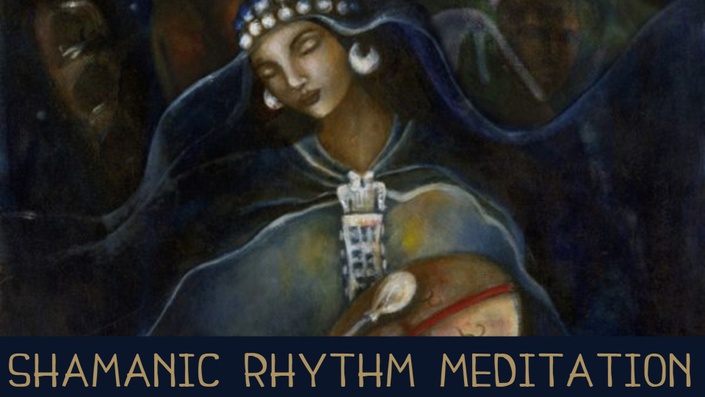 Shamanic Meditation for Calming the Mind & Energizing the Body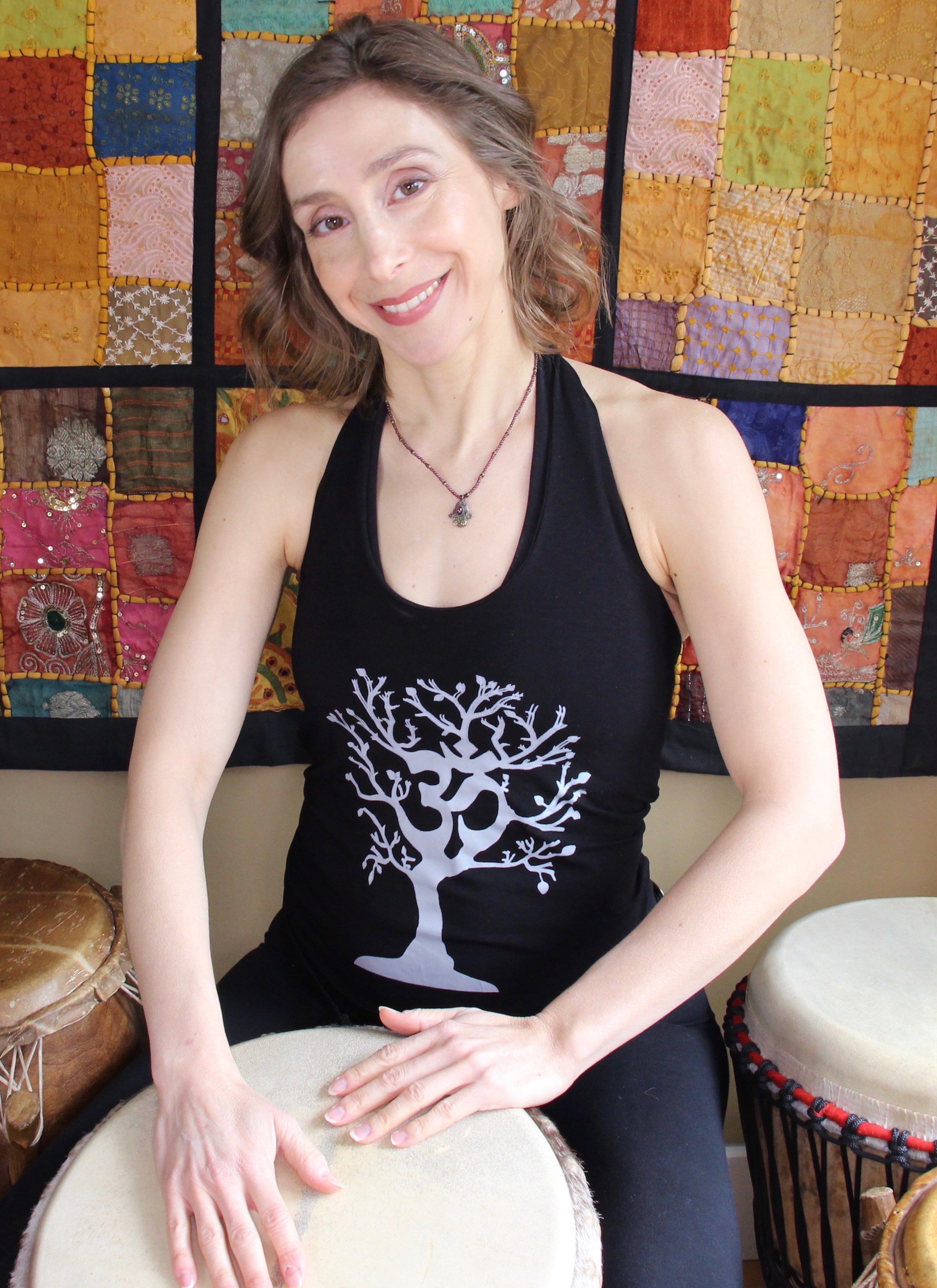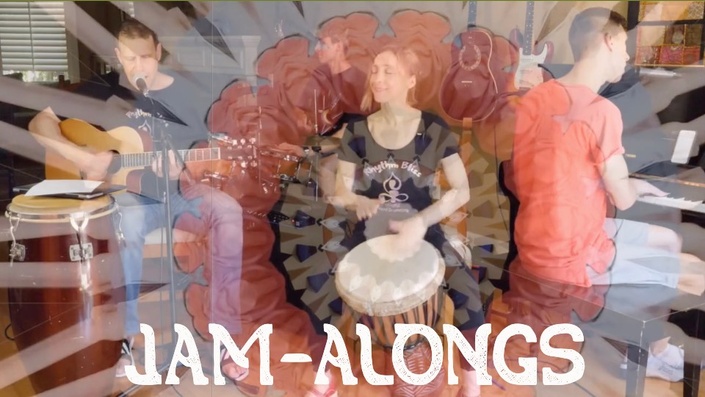 Jam-Alongs
Drum Along with the Rhythm Bliss Family Band!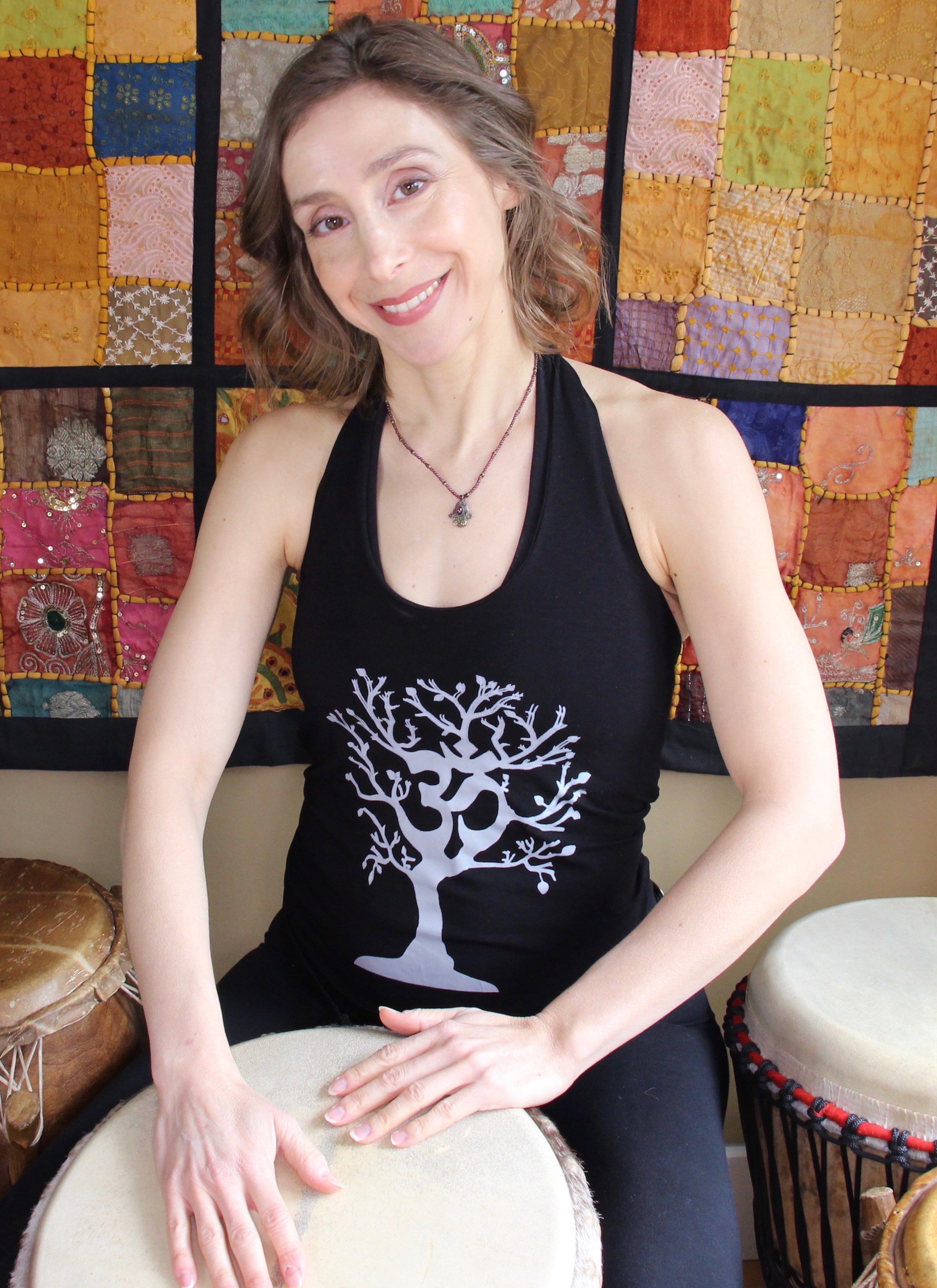 Original Price: $0
Your Instructor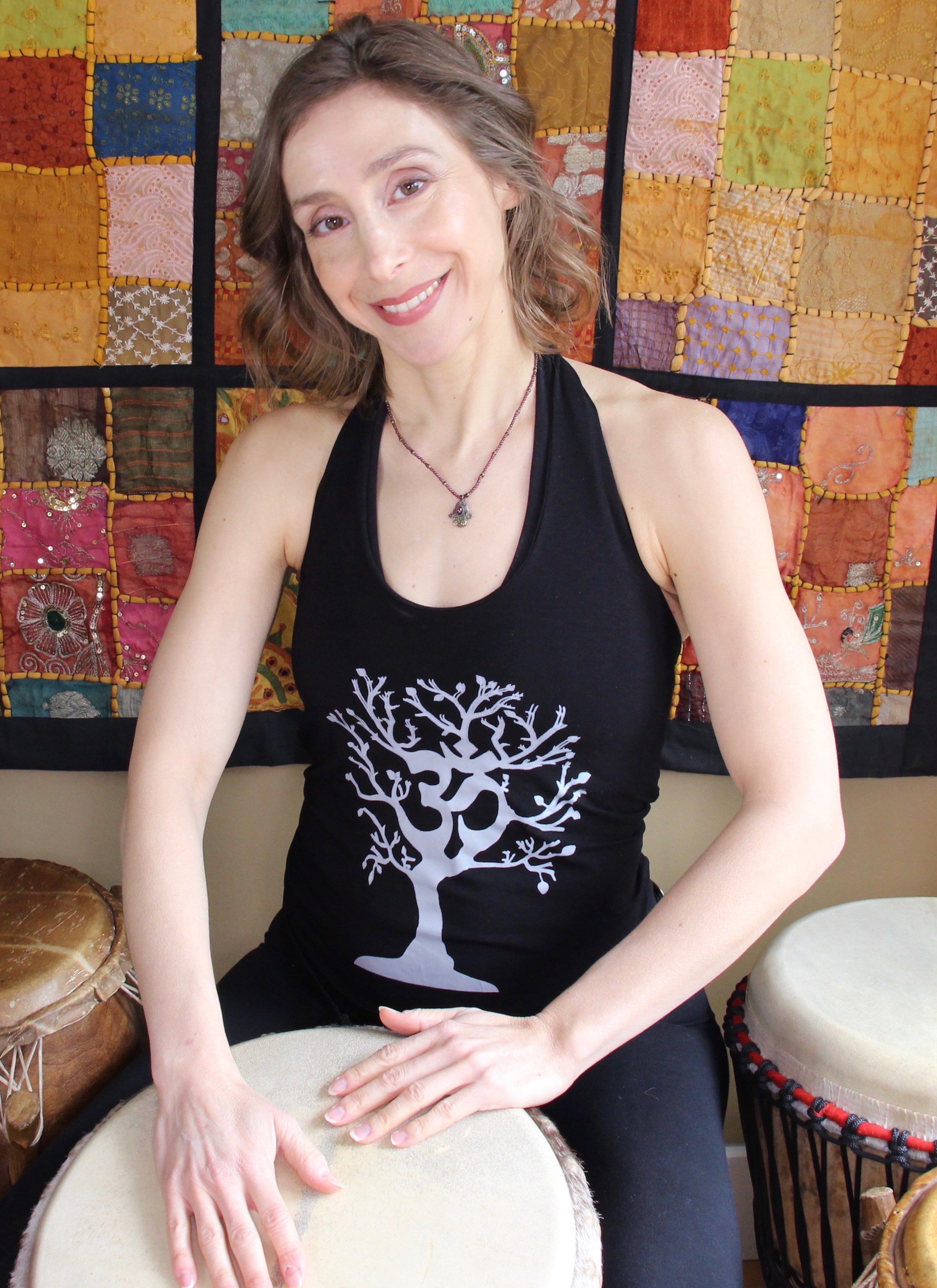 Hailing from Santiago, Chile, Alexandra Jai is a hand drumming and yoga teacher, rhythm facilitator, accompanist and performer with over 30 years of experience. Following a transformative and deeply healing drumming immersion with Nigerian Master Drummer Olatunji Babatunde in her late teens, she plunged heart-first into the study of world percussion and rhythm culture. A lifelong student of rhythm and movement, Alexandra Jai studied traditional African, Afro-Cuban, Indian and Middle Eastern Hand Drumming from master drummers across the globe. She is the founder of Rhythm Bliss Studio (formerly Drum Mama Studios), a centre for Rhythm and Movement Meditation serving Vancouver, BC since 2003. Alexandra Jai has created Rhythm Bliss Online to spread joy, serenity and healing by blending the ancient art of hand drumming with yoga philosophy in a way that is easily accessible and relevant to our hectic, modern lives.
Frequently Asked Questions
When does the course start and finish?
The course starts now and never ends! It is a completely self-paced online course - you decide when you start and when you finish.
I don't have a drum! Do I need one to use the program? If using a drum, what type of drum works best?
The short answer is you don't need a drum (you already have a lap drum!), there are cheap alternatives if you want one, and if you have any drum at home, you can make it work for the course.
I'm not a musician. I'm not even sure I have "rhythm". Is this for me?
You definitely DO NOT need to be a "musician" and absolutely NO musical experience or ability is required. If you have enough coordination to walk, talk and chew gum at the same time, you have more than enough rhythm for the Rhythm Bliss program. All the content is organized by rhythmic complexity or "rhythm spice", so that everyone from absolute novices, to more experienced drummers, can find exercises and rhythm meditations to keep them in their "Rhythm Zone" (You'll learn more about that in the course!).
I live in a thin walled apartment/with room-mates. Will using Rhythm Bliss disturb my neighbours?
The program is not designed for you to play loudly. Playing gently allows you to properly hear the ambient sounds and instructions. We have students who practice in their apartments, on their laps, or with a towel in their drum to muffle the sound and get no complaints. They listen through headphones (which gives them the benefits of Binaural Beats, more on that in the program!) which keeps noise to a minimum.
What traditions or styles of drumming do you teach in the program?
Rhythm Bliss draws from several rhythm cultures and traditions. I incorporate mostly West African, Latin and Afro-Cuban rhythms into the program, as I have studied primarily with master teachers from these traditions and my roots are South American (Viva Chile!). Periodically, we feature master drummers from specific rhythmic traditions sharing rhythms from their culture. At Rhythm Bliss, our focus is on cultivating the most vitality, connection and joy from a mindful hand drumming practice. The hand drumming technique which you will learn in this program can be applied to many drums and percussion instruments.
What does it cost? Is it easy for me to cancel?
We would never want you to be unhappy! If you are unsatisfied with your purchase, contact us in the first 30 days and we will give you a full refund. If you sign up for the monthly subscription, you will be charged $28USD/month (less than the cost of a two live drop-in hand drumming or yoga classes). Alternatively, you can sign up for a non-recurring 3 Month Pass for $84USD. Your membership gives you access to 4 Weekly Live Stream Mindful Hand Drumming classes and a growing list of over 300 videos including Rhythm Meditations, Pre-Recorded Live Classes, Hand Drumming Instructions, Rhythm Jams, and Movement Practices which you can access any time. As a Rhythm Bliss member you will also receive priority registration for and discounts on annual retreats. If you with to cancel your monthly subscription you can easily do so by emailing us at
[email protected]
and letting us know.
I have an injury/arthritis/suffer from chronic pain. Can I still do this?
It's really important to listen to your body and STOP playing if you feel any pain while drumming. That being said, drumming has been scientifically shown to reduce the pain response. We have some students with wrist injuries and others with nerve damage in their arms who are able to drum and many who report that the vibration of the drumming releases pain and discomfort and increases mobility. We encourage everyone to play really GENTLY (lubricating the joints) versus hitting hard (jarring the joints). Mindful hand drumming is about drawing awareness to physical sensations and adjusting your playing to fit your needs. Honour your body and work within your limitations.
Will I become a good drummer using this program or is this just for meditation and relaxation?
In addition to providing this Online Rhythm and Movement Meditation Training, I currently teach live group hand drumming classes to over 300 students per year. Some attend to relax, some for connection to community and others to improve their hand drumming skills. What is abundantly clear is that those who practice at home with the Rhythm Bliss program become more skilled at drumming. Your timing, syncopation, left-right independence and improvisation skills will improve dramatically. That said, becoming an awesome drummer is not the goal of the course, but rather a sweet side-effect!
Isn't hand drumming a social thing you do in groups? Why would I do this on my own?
The more you meditate in rhythm, the more profound the effects. Our home rhythm meditation program allows you to maintain a consistent practice for health and wellness. For some, Rhythm Bliss is a complement to drum circles and group classes. For others, getting out to live classes and events can be challenging or even impossible or, they prefer to practice at home on their own, at their own pace. There are many roads to Rhythm Bliss and we want to make drumming accessible to all! Note: many students have mentioned that they do get the feeling of a live, in-person drumming experience from our Weekly Live Stream Classes and Pre-recorded Live Classes online. Try it out and see for yourself!
I'm not sure that I'm the woo-woo, New-Agey, drum circle, hippy type. Is Rhythm Bliss for me?
My mindful hand drumming students include doctors, administrators, teachers, lawyers, business people and others from all walks of life and yes...lots of yoga enthusiasts, therapists, and even a few dread-locked, New Age, and hippy types. Mindful hand drumming is beneficial to everyone regardless of age, gender, religious background, sexual orientation, able-bodiedness or ethnicity. If you have a beating heart, you can meditate in rhythm.
100% SATISFACTION GUARANTEE:

If you are not completely satisfied with Rhythm Bliss, let us know within 30 days and you'll receive a full refund. You can of course cancel at any time.